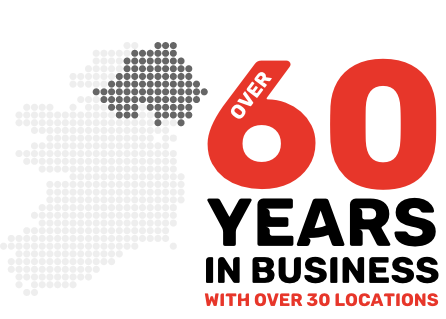 Profile
We have been supplying the construction industry in Northern Ireland for more than 60 Years. Our combined product portfolio and associated services consistently achieve a reputation for quality and value unrivalled in the materials supply sector in Northern Ireland.
We build on our core values of a well established professional company taking service level, value and customer choice to new levels of excellence. We offer our customers, existing and new, a wide range of products and services from one source. This results in simplified purchasing, invoicing and payments as part of our enhanced customer package. Customers are assured of responsiveness to their needs and superior service levels. Establishing effective, long lasting relationships with our customers is of primary importance to everyone in our team.
Our Journey to the A6 from blasting at the rock face to laying of 340,000 tonnes of blacktop on the carriageway. Completion of the project also required 2,000,000 tonnes of dried stone, 45,000 tonnes of sand and 42,000 m3 of concrete. The project was officially opened on 31st May.
History of Northstone
1900

- R J Maxwell

In 1900 Robert Maxwell began building a reputation for service and quality from a small quarry on the outskirts of Coleraine known as Bushtown Quarry.
1920

- R J Maxwell

Jackson McCormick's book "The History of Ulster Roads" states "The first coated macadam in Northern Ireland was laid by R J Maxwell in about 1920 in Kerr Street Portrush.
1936

- R J Maxwell

Bushtown Quarry redundant and the operations moved to Spital Hill, Bushmills Road, Coleraine.
1941

- Farrans Limited

Farrans founded by Sam Taggart.
1945

- R J Maxwell

As part of an extensive mechanisation plan, the company installed a 25B Pegson Telsmith Crusher, the biggest of its kind in Europe.
1946

- R J Maxwell

Up to 1946 a narrow-gauge railway carried shot rock from the face, the men pushing the trucks to a central point from which they were rope hauled to the crusher.

Howard Maxwell, son of the founder became the first operator in Ireland to use a mechanical paver for laying tar macadam.
1947

- Scotts

Walter & Herbie Scott returned after the war and bought two lorries to draw sand for their Uncle Bob (General Merchant from Ballyronan).
1950

- Scotts

Decommissioned Guinness barges purchased by Scotts for sand extraction due to demand after World War II.
1953

- R J Maxwell

Following the deaths of Robert and Howard Maxwell the business was sold to W M Bolton in December 1953.
1954

- Ready Use Concrete

Ready Use Concrete pioneered the ready-mix concrete industry in NI. Ready Use Concrete opens first batching plant in Ballygowan for the supply of ready-mix concrete into Belfast.
1957

- Ready Use Concrete

Second plant set up in Dunmurry.
1958

- Scotts

Scott Toomebridge Limited formed by Oswald & Ronnie Scott.
1960

- Ready Use Concrete

Third plant set up in North Belfast. First 7 cubic yard truck commissioned.
1962

- Scotts

Opening of new Head Office at Toomebridge.
1965

- Scotts

Opening of new Tile Plant. Lough Shore sand operation developed at Sandybay.
1968

- Ready Use Concrete

Expansion to provincial areas outside Belfast – Coleraine.
1969

- Scotts

Ballyginiff sand operation developed.
1971

- TBF Thompson

TBF Thompson purchased R J Maxwell & Son Limited and W M Bolton & Sons.
1971

- Scotts

Hutchinson's Quay purchased by Oswald and Ronnie Scott.
1973

- Ready Use Concrete

Thirteen plants in Northern Ireland.
1977

- TBF Thompson

TBF Thompson purchases 300-acre quarry at Moorfields, Ballymena.

TBF Thompson purchases Farrans Limited from Sam Taggart including all subsidiaries: Ready Use Concrete, Scott (Toomebridge) Limited, J T Glover quarries in Moneymore & Carmean Limeworks. This created the largest construction plant and materials group in the Province.
1978

- CRH plc

CRH purchases the TBF Thompson Limited Group.
1979

- CRH plc

CRH acquires a 40% stake in the group.
1981

- CRH plc

Full ownership is passed to CRH (UK) Ltd.
1989

- R J Maxwell

R J Maxwell Contracting Division, successful completion A26 Phase 1 Dual Carriageway between Antrim and Ballymena. This was the largest scheme of its kind in the 1980's.
1990

- R J Maxwell

The single R J Maxwell trading brand was adopted, and all sister company names became dormant. Trial drilling around two dormant small quarries on the Shinny Road – The site of the future Divisional Head Office of Materials Division.
1999

- CRH plc

CRH sell the plant and machinery division (TBF Thompson Ltd).
2005
Northstone Brand established bringing together the former Ready Use Concrete Company Limited, R J Maxwell & Son Limited & Scott (Toomebridge) Limited, part of the Farrans Limited Group which includes Farrans Construction.
2006
Northstone acquire Salmor Industries.
2007

- R J Maxwell

Northstone Quarry & Asphalt Division moved to their premises at Croaghan Quarry.
2009
Following acquisition of Carson Industries in Roscommon and C4 Industries in Liverpool along with the already acquired Salmor, these businesses become Cubis Industries and form Northstones third operation division.
2010
Northstone Materials Division formed through the coming together of the Northstone Quarry & Asphalt Division and Northstone Concrete Division. The Northstone company identity had 3 operating divisions, Northstone Materials, Farrans & Cubis Industries.
Our Strategy